LANCASTER GOLDEN GALES GIRLS SOCCER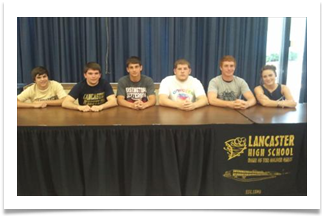 Division III College-Bound Athletes
Pictured above are six Lancaster High School Seniors who will be participating in Division III College athletics next year.
Pictured from left to right: Jacob Spearman - Washington and Jefferson (Wrestling), Ben Barnhart-Sullivan - Muskingum (Wrestling), Logan Strope - Washington and Jefferson (Wrestling), Spencer Marshall - Muskingum (Wrestling), Nick Thompson - Marietta (Football), Caitlyn Poston - Muskingum (Soccer). Other Lancaster Seniors planning to participate in DIII athletics, not pictured are: Ethan Jones - Muskingum (Football), Xavier West - Muskingum (Football), David Hartranft - Muskingum (Football), Kellie Arter - Dennison (Basketball), Jordan Kempton - Shawnee State (Baseball), Caleb Hester - Marietta (Basketball), Jenna Jones- Indianapolis (Softball), Ashlee Brill - Bethany College (Softball), Abby Renko - Bethany College (Softball), Ethan Cordle - Wilmington (Football)

Jones to join Women's Soccer roster

Thu, Dec. 12, 2013 - [Women's Soccer]

Rio Grande Sports Information
RIO GRANDE, Ohio - University of Rio Grande women's soccer head coach Callum Morris has announced the signing of current Rio Grande softball player and former Lancaster High School standout Jenna Jones for the 2014 season.
Jones, a 5-foot-8 defender, was an All-Ohio Capital Conference performer for head coach Brian Griffin's Golden Gales, who concluded Jones' senior season in 2012 with a 5-9-2 record.

"I have always played softball and soccer since I was young," Jones said. "Playing both at the collegiate level is a dream come true. I was already here to play softball and I just missed soccer too much not to try it out."
Morris is glad to see the change in heart.
"Jenna came to us late this season and expressed to us how much she missed soccer," Morris said. "She went through various workouts and training sessions and left us very impressed. She's quick, strong, and loves to tackle and will give us much-needed depth. I'm looking forward to the added competition that she will bring to the table."
Jones, who is majoring in Business, feels that her natural instincts of the game will help her adjust but admits that she is not in "soccer shape."
"I feel as if my best assets are knowledge of the game and the fact that I am a quick learner," Jones said. "I definitely need to get back in shape and there is always room for improvement everywhere else."
When asked about her ultimate goals over the next four years, Jones referenced a team goal.
"I want to help others as mcuh as I can and contribute everything that I can to the team. I want to become a better player and have a winning season."
Jones is the daughter of Angela and Jared Jones of Lancaster.



Girls Soccer Results 2013-2014 Results


Lancaster 8-6 (1-5) 2 Grove City 11-1 (6-0) 6


Scoring
Lancaster
31' #14 Erica Campbell PK
34' #14 Erica Campbell assisted by Zoyie Golden

Grove City
4' #14 Jen Draper
15' #22 Amanda Baker
16' #22 Amanda Baker
24' #13 Ashley Artrip
60' #9 Megan Farr
68' #15 Hannah Davis

Lancaster goalie #21 Brittany Wolfe 5 saves and #9 Mikaela Wagner 5 saves
Grove City goalie #1 Xochitl Cajigal 2 saves



Lancaster 8-5 (1-4) 5 Alexander 0-9-2 0


Scoring
Lancaster
1' #6 Izzy Ryan assisted by #8 Micayla Welsh
7' #3 Savannah Dalton assisted by #14 Erica Campbell
9' #14 Erica Campbell assisted by #20 Abby Watson
22' #11 Shannon Frear unassisted
55' #1 Abbie Conley assisted by #23 Anne O'Dell

Lancaster goalie #21 Brittany Wolfe 2 save
Alexander goalie #21 Danielle Adelsberger 2 saves



Lancaster 7-5 (1-4) 4 Unioto 5-6-1 (independent) 3


Scoring
Lancaster
2' #3 Savannah Dalton unassisted
6' #14 Erica Campbell unassisted
24' own goal off #6 Izzy Ryan cross
54' #1 Abbie Conley unassisted

Unioto
9' #14 Jenny Campbell unassisted
11' #4 Lexi Maughmer assisted by #30 Sydney Smith
20' #14 Jenny Campbell unassisted

Lancaster goalie #21 Brittany Wolfe 1 save and #9 Mikaela Wagner 3 saves

Unioto goalie #24 Izzy Timmons 3 saves


Lancaster 6-5 (1-4) 1 Reynoldsburg 3-6-2 (1-3-1) 3


Scoring
Lancaster
3' #3 Savannah Dalton unassisted

Reynoldsburg
2' #8 Katie Broehm unassisted
69' #21 Sam Buck unassisted
77' #16 Ceri Goff unassisted

Lancaster goalie #21 Brittany Wolfe 3 saves and #9 Mikaela Wagner 4 saves

Reynoldsburg goalie #15 Catherine Gundelfinger 8 saves


Lancaster 5-2 (0-2) 7 Westland 0-5 (0-2) 0


Scoring
Lancaster
22' #8 Micayla Welsh assisted by #6 Izzy Ryan
22' #8 Micayla Welsh assisted by #16 Bailey Knecht
27' #4 Alex Farlow PK
34' #14 Erica Campbell unassisted
35' #14 Erica Campbell unassisted
47' #14 Erica Campbell unassisted
59' #11 Shannon Frear unassisted

Lancaster Goalies #21 Brittany Wolfe 3 saves and #9 Micayla Wagner 5 saves
Westland Goalie #0 Shayan Brown 4 saves


Lancaster 2-0 (0-0) 9 Central Crossing 0-1 (0-0) 1


Scoring
Lancaster
7' #8 Micayla Welsh assisted by #10 Madyson Wills
27' #19 Kristen Dalton assisted by #10 Madyson Wills
30' #8 Micayla Welsh assisted by #10 Madyson Wills
42' #3 Savannah Dalton unassisted
51' #8 Micayla Welsh assisted by #14 Erica Campbell
61' #6 Izzy Ryan unassisted
66' #3 Savannah Dalton unassisted
73' #1 Abby Conley unassisted
79' #16 Bailey Knecht unassisted

Central Crossing
50' #14 Kortney McGinnis unassisted

Lancaster Goalies #21 Brittany Wolfe 5 saves and #9 Mikaela Wagner 4 saves
Central Crossing #21 Courtney Larkin 6 saves



Lancaster 1-0 (0-0) 3 Philo 0-1 (0-0) 2


Scoring
Lancaster
13' #14 Erica Campbell rebound off of PK
21' #6 Izzy Ryan assisted by #8 Micayla Welsh
41' #8 Micayla Welsh unassisted

Philo
30' #10 Karley Bruns assisted by #6 Erin Pride
45' #10 Karley Bruns unassisted

Lancaster Goalies #21 Brittany Wolfe 5 saves and #9 Mikaela Wagner 3 saves
Philo Goalie #34 Mallory Trout 14 saves
Visit our official website at: LancasterGalesSoccer.com
Coach: Brian Griffin